Real Estate Insider: Arnold Goldstein
---
In 2012, luxury home prices in the South Bay rose and in places like Manhattan Beach, the number of private residences with a listing price over 1 Million dollars increased to highs not seen since 2007. The luxury homes seen here, however, are all presently priced at over 10 Million and make up our current honorific South Bay Ten Million Dollar Plus Club.
7 MARGEURITE DR., RANCHO PALOS VERDES
---
The Most Expensive U.S. Home Sale, Ever!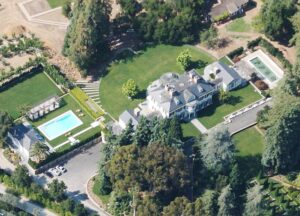 The most expensive home ever put on the market in the United States (in Silicon Valley, Northern California) was just sold for $117.5 million, possibly to the CEO of Softbank, Masayoshi Son, in November, 2012! Friedman, Fleischer and Lowe of San Francisco handled the exchange of the 9-acre property, which includes a 9,000-square foot residence with a very large pool-house, several detached buildings (like a library and guest quarters) plus (of course) tennis courts, swimming pools, and amazing gardens situated on The Mountain Road in an exclusive, upscale neighborhood. Most incredible is that in 1997, the same property sold for only 8 million dollars! This was, of course, before the massive renovation and construction by Greenberg. However, the enormous appreciation of value can't be ignored. There are other $80-90 million properties scattered around the United States (particularly in Manhattan, NY and Florida), but only the recent listing of the Broken O Ranch in Montana tops the 117 Mountain Road property (it was listed at $135 Million, but there is no indication that it sold for that price).
---
Large Lots
48 THROUGH 65 14TH ST., HERMOSA BEACH
Five contiguous "street to ally" lots on 14th street in Hermosa Beach just steps to beach and adjacent to the Beach House Hotel. Each lot is approximately 40' x 90'. Listed for sale at 
$7,500,00 
by Jeffrey Butscher International Realty.
After 50 years working in real estate, Arnold Goldstein's philosophy is still, "love what you do." Love for his business and love for his life give him an advantage and have since he sold his first property in 1962. Back then, houses in Manhattan Beach were selling for 16,000! Since 1969, he built up Shorewood Realtors Realtors to the large company it is today. Doing what he calls "an amazing amount of business" in his time, Goldstein stands by his face-to-face policy of meeting his clients' needs and says he makes his living by talking to people. Shorewood Realtors focuses only on the South Bay Los Angeles region and is consistently in the top 10 Real Estate companies in Los Angeles. A longtime resident of Manhattan Beach, Arnold's knowledge of the beach cities markets and his training programs make Shorewood a company that realtors stick with; many have worked for Shorewood Realtors for over 20 years. Arnold Goldstein and his wife Homeira Goldstein have incorporated their mutual love of art into their impressive Manhattan Beach Art Deco home property, including not only her own artistic creations but remarkable collections (including paintings of George Washington and Abraham Lincoln in drag!) that betray his congenial sense of humor and appreciation for passion in every day events. Arnold Goldstein and Homeira Goldstein support local and international artists because they believe strongly in the importance and beauty of artistic and architectural freedom and creation. "Our business is like my personal life," he says, "focused on accomplishing something new on a daily basis." Arnold Goldstein has seen many trends come and go throughout the South Bay Los Ageneles's changing real estate climate since 1960; despite the recent economic downturn, Arnold Goldstein is optimistic about the market's future in Manhattan Beach and the surrounding areas. "The buyers are out there," he knows, but acknowledges the need for product in the area.  His confidence is confirmed by the new Shorewood Realtors office opening in Manhattan Beach (Shorewood Realtors's third) on Manhattan Avenue to accommodate the growing need for experienced agents in the area.  The major thrust of Shorewood Realtors is bringing the product to the buyers, something at which Arnold feels he is particularly good. "You're not only selling homes," this self-proclaimed Albert Einstein-look-a-like believes, "you're selling yourself and your company. Hopefully they are one in the same."